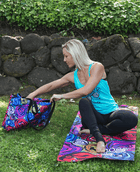 Description
Elicit the frequency of love with the highest vibrating essence of rose. These roses are plucked right from the back of the Bitch Medicine Tarot cards just for you.

You can fit just about anything and everything in this amazing bag! Your 'go-to' for a romantic weekend with yourself or with a 'sexy accomplice' ...have yourself some fun and bring all your favorite stuff along!
The perfect casual day-out accessory, the Bitch Medicine tote will bring color and fun into your weekend! It is sturdy, spacious, and eco-friendly. The strong, durable strap allows for maximum comfort.